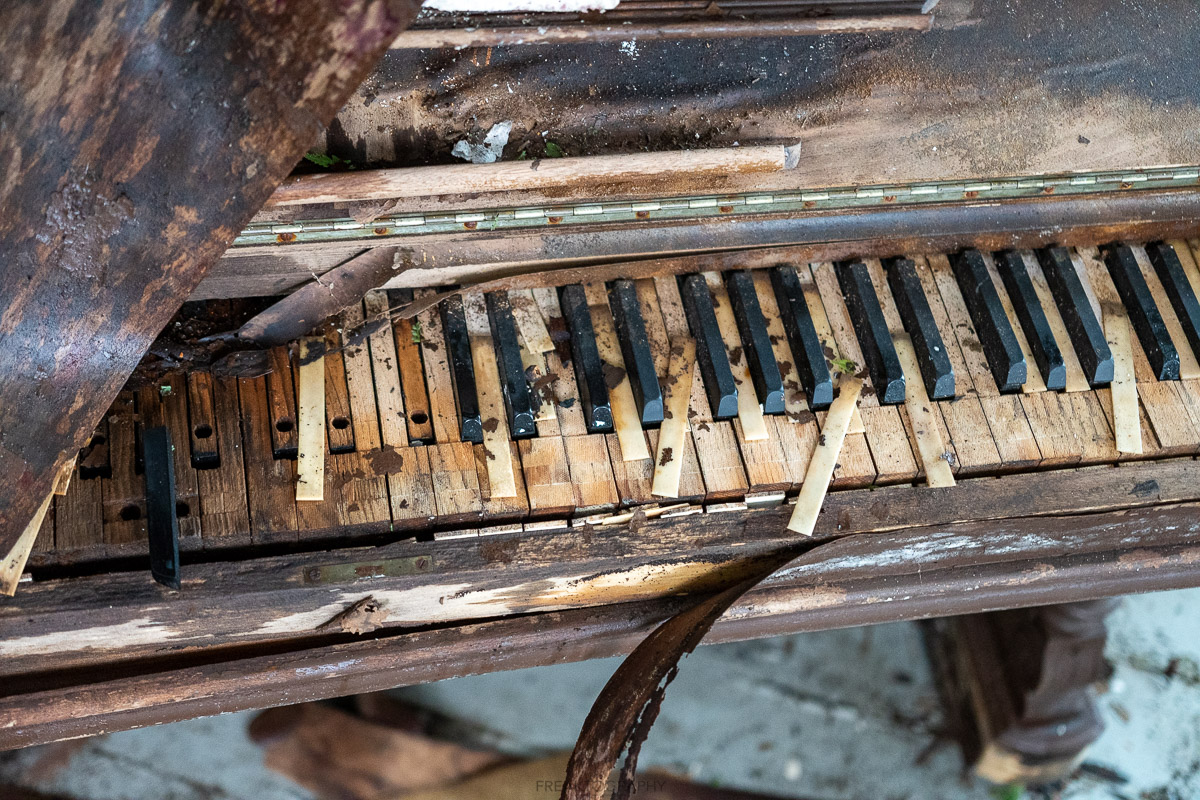 The time to repair the roof is when the sun is shining.

John F. Kennedy
This article is based primarily on an online discussion with Gary, a truly Beloved Customer, regarding his wise observation about the need to make a toolchest easily repairable, especially if one intends it to be useful for 200 years. I preached about durability, longevity and the joys of bubble-wrap in previous articles in this series but failed to address the subject of repairability, so in this article I will try to clarify a few points relevant to this subject.
Categories of Repairability
There are several types of repairs that a faithful toolchest may require during it's lifetime if it is to remain useful, but I think the two main categories are (1) cosmetic and (2) mechanical.
So what did your humble servant do to facilitate Moby Dick's "repairability," and what would I change to improve it in this regard? Perhaps you may learn from, or at least giggle at, my mistakes. Soft giggles only, please.
Planning Repairability
It's just a wooden box, but it would be wasteful to make it quickly and cheaply, get it out the door, receive payment, and hope cheap materials, crappy hinges, sloppy tolerances and loose joints won't matter because, with a target useful lifespan of 200 years, Poor Quality Equals Miserable Failure.
In my experienced professional opinion the most effective way to ensure quality is to actively plan for it during the design phase, but I admit I did not give this subject much thought originally.
Cosmetic Repairability
This is one aspect of my toolchest that caused the pooch to walk funny for a few days because I screwed it good. But wait, there's more to this tale of shame. When I realized my mistake and tried to remediate it some years later, I only compounded it. Poor sore Poochie!
You, Gentle Reader, have of course never suffered this sort of humiliation, but in the interest of sad and abused toolchests everywhere, I bow my shiny bald head, place my hand over my heart (it's rattling around here in my chest somewhere, although my wife frequently disagrees) and humbly confess all. One or two teardrops fall, …
When new, my toolchest was striking in appearance, with highly figured solid mahogany wood panels (not veneer) exposed on the lid surfaces and a clear, high-gloss, rubbed-out catalyzed varnish finish. It was a thing of beauty, but not a joy forever because, after several years of use in drafty, dusty, pixie-infested garage shops combined with several long-distance moves and more than a few months of exposure to wind and sun it was scratched, dinged and crazed.
In my foolish vanity I repaired it using what I thought were sound techniques and quality materials, but which eventually proved to be inadequate.
I'm a highly-edumacated fella, you know, and during my studies at the University of Stoopid, School of Hard Knocks (Lower Outhouse Campus) where I earned an MD degree (Master Dipstick, Summa Cum Loudly) I learned that catalyzed varnish was not tough enough. Out of an abundance of well-earned humility I don't display my UoS graduation certificate on my "I Love Me Wall," so please don't ask to see it.
Drawing upon my training at UoS, I next refinished the toolchest with a brushed-on spar-varnish finish. Not as pretty, but it was more flexible and more resistant to scratches and UV rays. But ultimately, it too failed. Poochie wept!
As the wise Nigerian Prince Musa Adebayo once told me (in exchange for a small wire transfer to his bank in Abuja, of course), " Time destroys all things." This eternal truth definitely applies to woodwork finishes, but I didn't realize at the time the Prince was talking about credit ratings!
A decade or so later the toolchest (aka "Moby Dick") was as scratched and gouged on the outside as its fishy-smelling namesake such that no translucent finish could conceal the repairs, forcing me to seek a more practical solution, one that would spare long-suffering Poochie further indignity.
On that bright day I said to myself: "Self," (of course, I don't address myself as "Mr. Covington" when deliberating with myself, because that would be insane), "Would you wear a bespoke tuxedo with handmade alligator skin dress-shoes to a muddy jobsite to perform a foundation rebar inspection?" I had to think about it for a while because, as you know, fashion is my life, but with a sigh of resignation I eventually answered myself, because that's the only polite thing to do. The response was a resounding "No."
In my supervisory role, I'm obligated to perform periodic construction jobsite inspections as part of quality control measures to ensure compliance with plans and regulations, but I wouldn't wear a black tuxedo and delicate loafers to a jobsite any more than I would wear board-shorts and flip-flops. Instead I dress in tougher clothes that protect my legs and don't instantly tear if they get hung-up on a rebar cage, and that won't look filthy if they get a little muddy. And when the paparazzi's cameras aren't rolling (they seem to follow me everywhere, donchano (ツ)) I prefer sturdy leather boots that actually protect the tasteful glitter-varnish finish decorating my fuzzy pink toes.
With greater age and experience I finally concluded that, in the vanity of youth, I had erred by trying to make a toolbox look like pretty furniture. Feel free to mock the fool if you must but no tossing of rotten eggs, please!
So, determined to not make the same mistake a third time, I conducted more research on finishes that might get the job done. In the end I rejected the extremely tough but expensive and difficult-to-repair industrial solutions such as Imron and Polane and settled on a cheaper, friendlier and easier-to-repair solution; I sanded my toolchest down to bare wood and refinished the exterior with distressed milkpaint per Mr. Dunbar's recommendations, as discussed in a previous post, and shellac on the inside.
When cured, milkpaint contains oodles of hard mineral solids with few volatiles to evaporate over the years to cause shrinkage and cracking (unless you want it to craze). It is not as flexible as latex paint but much tougher long-term than any clear finish. UV protection is absolute.
Like a Tabasco Sauce stain on camo pants, repairs are nearly invisible, indeed they even improve the chest's character. With a bit of primer, milkpaint completely concealed the bondo I used to repair the cuts, scratches, and dings incurred during international moves, the ravages of rabid forklift attacks, and even injuries received from the slings and arrows of outrageous fortune (yes, here at C&S Tools we quote literary giants such as Shakespeare and Red Green). Latex paint works too, but milkpaint looks better and it's far tougher.
But Gentle Reader you are no doubt wondering what this rambling has to do with "repairability." The point is that repairs to a distressed milkpaint finish are easily accomplished and don't look like repairs even when made to localized spots, they just give the overall finish more "character" making it look more interesting. No other finish I am aware of looks better with age and wear. Now that's true repairability.
I only regret it took so long to stumble upon this excellent solution. So does Poochie.
Mechanical Repairability: Hinges & Screws
Hinges always wear out. The historical record shows that artistic iron hinges secured with small steel screws, while inexpensive and "historically correct," always fail, usually sooner than later, as Murphy dictates. And when they fail, Murphy also ensures that they cause interference and maximize secondary damage.
Would you use flimsy sheet-metal cabinet hinges to attach the tailgate of your pickup truck knowing that one day you may see that same tailgate in your rear-view mirror scattering festive sparks as it skates over the highway behind you? Why, then, would you put them on your toolchest?
Being in the construction industry I know the solution to hinge durability is to use more, bigger, corrosion-proof hinges because larger internal bearing/wear surfaces free of abrasive iron oxide wear slower and keep things tighter. Think stainless-steel or brass door hinges. Commercial ball bearing door hinges are good too, but the thrust bearings are oriented for an axial load, not a side load, so the cost-benefit analysis of bearings in this application is weak.
But I digress. How does one plan for repairability in the case of hinges? The answer is simple: "R&R," as in "remove and replace." Let's look at "replacement" first.
Unless you or your descendants (assuming the chest stays in the family, which it should) intend to have replacement hinges custom-made when the original set wears out (funded by the generous cash inheritance you will no doubt bequeath them and the voracious tax maggots will graciously leave un-spoiled) I recommend you plan for the original hinges to be quality products matching industry-standard specifications that will be easy to procure even in a century or so. Consider the wisdom of using custom-forged hinges that look "antiquey" but that aren't a standard dimension for which replacements are easily purchased. I double-dog dare you. A toolchest ain't a little jewelry box, after all.
I recommend you use door hinges in standard sizes so they can be easily replaced without hiring a blacksmith when the time comes, a day that certainly will not fall within your lifetime if you heed the advice in the previous paragraphs. This is the essence of the "replace" aspect of "R&R" as it applies to hinges, IMO.
Moving on to the "remove" aspect of R&R, what else can go wrong with hinges? That's right, those pesky screws.
If you use the skinny, short screws that are packaged with store-bought hinges, sure as eggses is eggses they will begin to dance the reverse macarena after a decade or four. I promise you that when that inevitable day comes, replacing them and their worn-out holes will be a pain in the shorts. And what happens to the wobbly lid before you or your great-grandkids get around to fixing those idiot screws?
But wait, it gets worse (stay away Poochie, stay far away!). What happens when the hinges wear-out or fail but you can't remove the blasted screws to replace them because they have broken-off in their screwholes during the removal attempt? That's right, weeping, wailing and gnashing of teeth will ensue because a clean replacement will be difficult, and perhaps never happen, turning a measly two-hinge chest into a lop-sided one-hinge chest. Why would you give Murphy the satisfaction?
The best way to improve the "remove" factor in R&R therefore is to use oversized, extra-long, stainless steel grade 18-8 screws actually made in American, Europe, or Japan.
"Oversized" because strength improves durability.
"Extra-long" because the deeper a strong screw is embedded in the wood, the more resistant to the reverse macarena it will be.
"Grade 18-8" because this is an industrial specification that tells you something about the screw's quality, reducing doubt. They cost more, but are worth it when you consider what would happen if a cheaper screw, one made to no quality specifications, breaks off in the hole when it comes time to remove/replace it.
"Stainless steel" because brass is too weak and a rusty carbon-steel screw will become a loose screw every frickin time.
Made in America, Europe or Japan because, while Chinese-made screws are cheap (often sold under false pretenses as "quality fasteners") one must assume they are ALWAYS defective and will SURELY break. Indeed, it's not a matter of " if" they'll break but only "when." Murphy won't need to lift a finger.
If an inexpensive stainless-steel screw is sold at a big-box retailer, even if it's represented to be Grade 18-8, assume it's made by Godless, bait-n-switch commies. No, not the gangsters that burned down Portland, Seattle, Kenosha and Minneapolis, nor the ones that govern the coastal hell holes between Mexico and Oregon, but those in Beijing.
Reputable marine supply stores may be the best source for quality stainless steel screws.
I also encourage you to prep the screw holes in the hinge plates by countersinking them to the right depth and angle for solid, maximum contact between screwheads and plates.
Prep the screw holes in the wood too. Drill pilot holes the right size and right depth, and put epoxy or glue in the holes just before inserting the screws to penetrate the wood and reinforce the threads the screws cut into the wood.
And if a screw becomes loose, figure out why and repair it instead of just screwing it in tighter and tighter until it strips out.
Remember: History always calls an optimist who didn't prepare for the worst eventuality a careless nitwit.
Mechanical Repairs: Tray Sliding Surfaces
Besides hinges the other things in a toolchest that always wear out and need repair are the surfaces that support the trays and on which they slide. This normal wear is easily remedied by planing the old, worn surfaces flat and gluing in durable hardwood wear strips. The lower the coefficient of friction the better. I have installed six replacement sliding surfaces to the ledges of my toolchest. In retrospect, it would have been better to rabbet and glue these strips in-place when new so they would be easier to remove & replace when necessary.
Knowing these surfaces would wear and need replacement, however, your humble servant had the foresight to use screws to fasten the ledges that support the trays to the chest's sides so they could be removed and easily worked on with handplanes instead of gluing/doweling them in-place. I highly recommend this design detail.
Adhesives
The subject of "reversible adhesives" such as hide glue or starch glue is interesting, and relevant to repairability because such adhesives make non-destructive disassembly of wood joints possible. Unfortunately I have no experience with hide glue and so cannot comment.
A renowned master joiner taught me his philosophy on the subject of glue, however, and it has stuck with me (pun intended). He held that it's the craftsman's job to make his work as precise and durable as possible when new, therefore obligating him to use the strongest, most durable glue available to him and reasonably practicable to ensure that, if repairs are necessary, it won't be because the glue failed.
He learned the trade when the only available woodworking adhesives were "nikawa" hide glue, or starch glues made from rice, so he knew all about reversible adhesives. But when I knew him, he used PVA glue.
When I once mentioned I had read that rice glue should be used for fine joinery work to make repairs easier, he looked at me like there was a wriggling cockroach's leg hanging out of my mouth, and turned away in disgust. Nuff said.
Conclusion
Thank you for reading this series of posts about toolchests. I hope you found it interesting, or at least amusing.
I would like to conclude with a Japanese saying relevant to the subject of this article: 「石橋を叩いて渡る」pronounced "ishibash wo tataite, wataru." A direct translation of this idiom is "Strike a stone bridge before crossing," meaning to "take every precaution." I have a similar saying that goes "Belt, suspenders, safety harness." I encourage Gentle Readers to consider this principle when designing and constructing toolchests for their personal use.
YMHOS
If you have questions or would like to learn more about our tools, please click the "Pricelist" link here or at the top of the page and use the "Contact Us" form located immediately below.
Please share your insights and comments with everyone in the form located further below labeled "Leave a Reply." We aren't evil Google, fascist facebook, thuggish Twitter or the Congressional IT department of the Democrat Party and so won't sell, share, or profitably "misplace" your information. If I lie may my belt break, my suspenders snap, and my safety harness become wrapped around my stupid neck as I dangle from a stone bridge.
Other Posts in this Series: