Advice is a dangerous gift, even from the wise to the wise, and all courses may run ill.

J.R.R. Tolkien, The Fellowship of the Ring
This is the second part of our series about toolchests. In this post, just to ensure we have a common understanding, we will examine some of the history and roles of chests in general.
The wooden chest is certainly the most ancient hard-sided container used by humankind. This fact alone makes it a method of tool storage Gentle Reader should at least consider.
The traditional chest is simply a box with a lid. Throughout human history, most chests have been made of wood, although there are examples made of rushes, wicker, bamboo, tree bark, stone and various metals.
The basic chest has 4 fixed sides, a fixed bottom, and an operable lid on top. Some have legs of one type or another, others don't. Some have drawers, but historically most did not. There are many ways to construct them, with some materials and methods better than others. There are even a few examples of nordic chests made by hollowing-out logs.
Since at least the bronze age, chests used by common folk were expected to provide more than just storage space, but to do double, even triple duty as tables, benches, beds, food storage, food processing equipment and sometimes even fortifications.
For millennia chests were used to house and protect clothes, blankets, linens, armor, weapons, boots, horse gear, cooking and eating utensils, food, and money, just to name a few categories. Nowadays we tend to think of chests as storage space for clothing and blankets, or as a bench seat placed at the foot of a bed, but they were also practical household tools used to store grain in hovels shared with livestock and lit by stinky rush lights when beeswax candles were a prohibitively expensive luxury. The inverted lid of these "grain arks" were used as a trough for kneading bread dough after the goodwife had turned the winnowed grain into meal during her "daily grind."
Chests throughout history have been mostly simple, durable boxes, but at times they have been fabulously expensive pieces of fragile high-art intended to communicate status and wealth, with many examples in museum collections.
Throughout history chests have been carved, painted, lacquered, covered with nails, inlaid with mother of pearl or chased metal, and even gilded with gold leaf. They've served as strong-boxes for crusader banks, transported Inca and Aztec gold on Spanish galleons, and accompanied Italian princess to their new, married life. But whatever their purpose or appearance, chests were once the most common storage container in human civilization, with every well-established household throughout the world possessing at least one.
Regardless of where your forefathers hail from it is safe to say that thousands of chests served your ancestors down through history. The chest is older than the 4-legged chair, certainly older than the elevated bed. Only dirt has a longer track record.
Chests are not as ergonomic or convenient as modern cabinets, and for this reason and others have fallen out of fashion, but their utility is not diminished especially in the case of woodworking tools which do not wrinkle or molder.
There are many surviving examples of ancient toolchests we can learn from, and Europe and the Middle-east are not the only available sources of inspiration.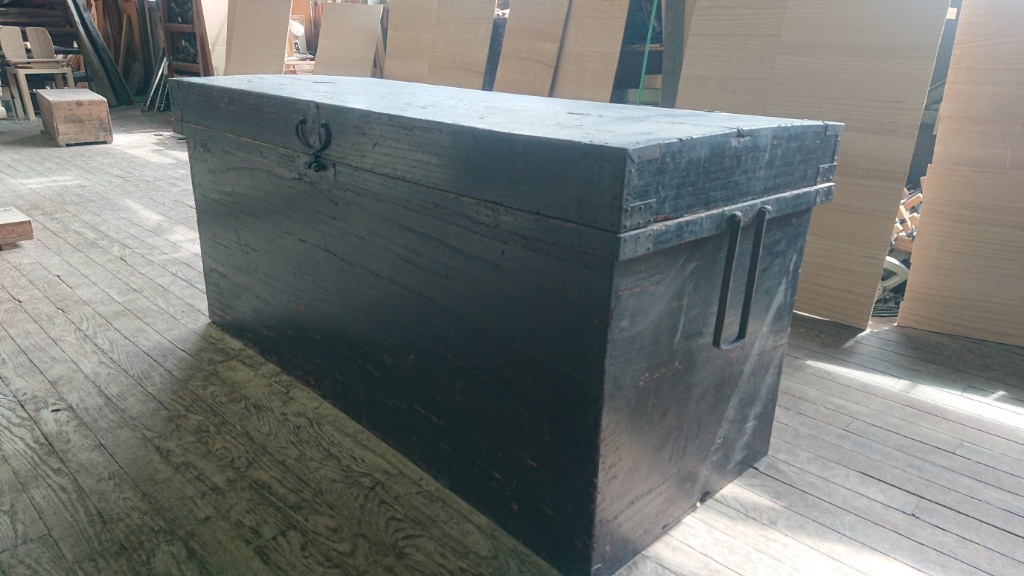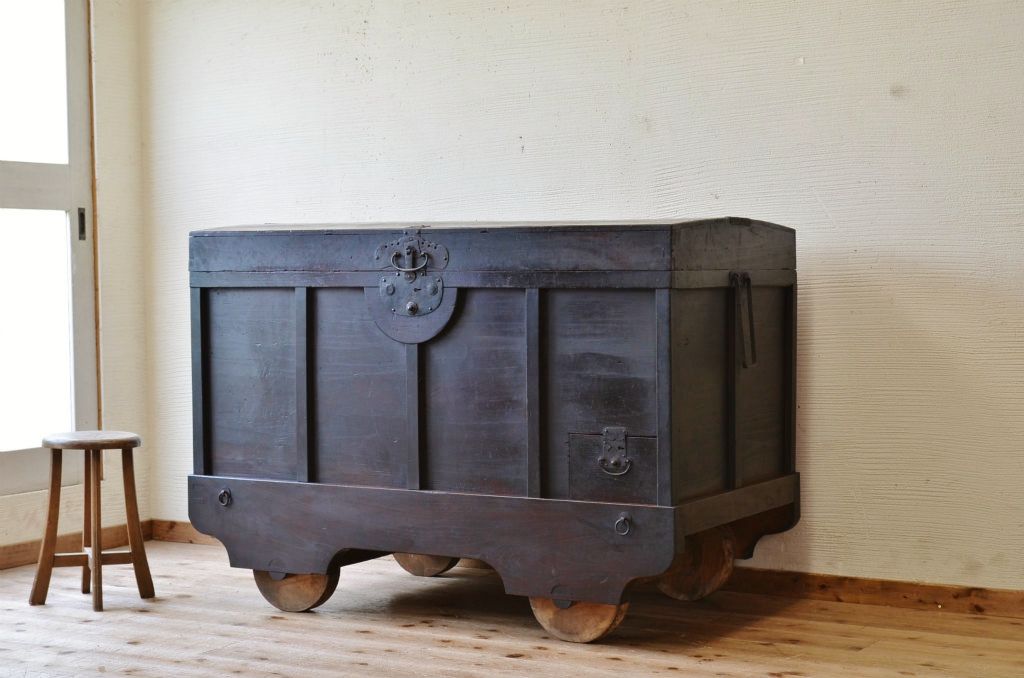 One of the first pieces of furniture a journeyman woodworker in centuries past would make was a toolchest to house his valuable tools. Accordingly, many old woodworking instruction books included designs for toolchests. One such book was the inspiration for my toolchest.
Based on statistical data, the vast majority of modern buildings have a useful lifespan of around 50 years. Furniture and casework is much less nowadays. While this mindset has been a reality, indeed has been celebrated for the last 80 years or so, it is a wasteful attitude your humble servant strongly adjures, one that diminishes the quality of our current existence, beggars civilization's future, and stuffs landfills. I have no interest in making low-cost objects that self-destruct or that might embarrass me in the eyes of my descendants. Accordingly, I set the useful lifespan of objects I make for my own use at 200 years. There is an off-chance I won't be around that long, but God willing and the creek don't rise, I can be sure a few of the things I make with my own hands will, including this toolchest. Do you have useful lifespan goals for your woodworking?
While there are many varieties, no piece of furniture has served humanity longer or better than the chest. If you value your woodworking tools and want a woodworking project that will have long-term value, the toolchest is a storage system you should at least consider.
In the next post in this series on tool chests we will examine the goals and objectives you would be wise consider when designing a toolchest, as well as the challenges toolchests face in the real dirty world.
YMHOS
If you have questions or would like to learn more about our tools, please click the "Pricelist" link here or at the top of the page and use the "Contact Us" form located immediately below.
Please share your insights and comments with everyone in the form located further below labeled "Leave a Reply." We aren't evil Google, fascist facebook, or thuggish Twitter and so won't sell, share, or profitably "misplace" your information. If I lie may the wheels on my toolchest become square.
Other Posts in this Series