The Right Wood for the Right Place 適所適材

Old Japanese Saying
Our customers outside of Japan frequently need some information to help them select the best wood for their chisel handles. In this article your most humble and obedient servant will describe the woods available and the advantages and disadvantages of each to help you make an informed decision.
The chisels we sell all have wooden handles in several varieties of wood, the two most common being Japanese White Oak and Japanese Red Oak. We can also provide usunomi paring chisels with Rosewood handles, but let's look at White Oak first.
Japanese White Oak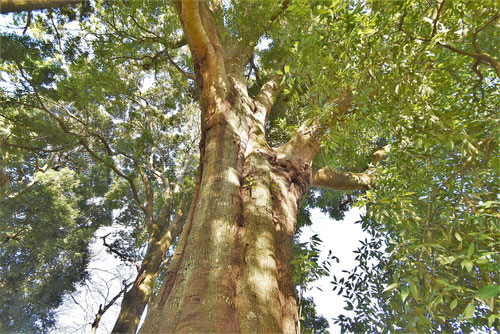 Japanese White Oak (JWO) is very similar to American White Oak in that it is closed grain, dense, and has medullary rays. The color is a little whiter than the American or European varieties, and in fact, it's a little denser and stronger than either. It holds up well to being struck with steel hammers.
JWO is not a slick wood when dry and does not become slippery when wet, important characteristics in a tool handle where staying attached to the blade and staying secure in a sweaty hand while being pounded on are part of the job.
Like White Oak everywhere, it contains tannic acid. In fact, bark and chips from this wood have been used since before written history to tan leather because this chemical converts animal skins that would otherwise rot into durable leather. Tannin, which is the base word of both tanning and tannic acid, comes from the medieval Latin word tannāre, a derivative of tannum (oak bark), from which the tannic acid compound is derived.
Tannic acid can react with some people's sweat causing the wood to turn a dirty grey color. This tendency is not strong among the Japanese people, but it is among many Caucasians, including me.
This discoloration in no way weakens or harms the wood, it just makes it look dirty.
JWO generally has a bland, indistinct grain with few flecks, not a problem for a tool handle or plane block, but less than ideal for furniture.
Japanese Red Oak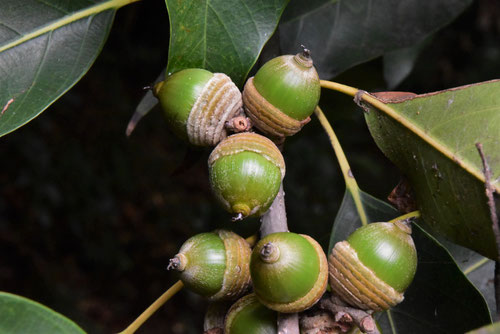 Japanese Red Oak (JRO) is as different from American Red Oak as the "the moon and a mud turtle," as they say over here. It is a much more useful wood.
Similar to JWO, Japanese Red Oak is closed grain and also has medullary rays. It contains much less tannic acid, and ranges in color from a dark red (difficult to obtain nowadays) to a pinkish red.
JRO has been prized in Japan for tool and weapon handles since forever. Indeed, JRO is the preferred wood for the bokken wooden swords used in the martial arts. The better grades are denser than White Oak with a more interesting grain. Unfortunately, this grade of Red Oak has become difficult to obtain.
As with Japanese White Oak, Red Oak is not a slick wood when dry and does not become slippery when wet.
There are unscrupulous people that dye less colorful pieces of Red Oak a dark red color to jack up the price. We don't deal with such slimy people and our JRO handles are all authentic. Caveat emptor, baby.
JRO has the advantage of discoloring less than JWO over time and tends to look cleaner longer. It makes a more attractive handle.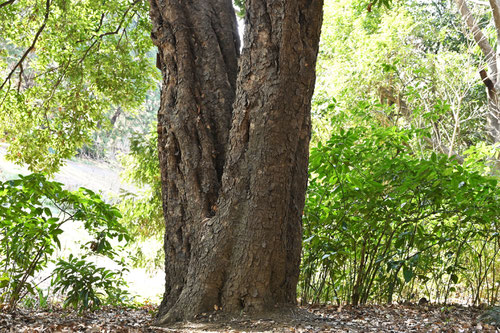 The downside to the JRO generally available nowadays is that it is a little less dense than White Oak. I consider Japanese Red Oak to be the perfect wood for paring chisels, and Japanese White Oak the perfect wood for atsunomi chisels. Either wood works fine for the smaller oiirenomi bench chisels.
Gumi
Gumi (Elaeagnus multiflora or cherry silverberry) is more a hedgewood or bush than tree. It has historically been cultivated primarily for the fruit it bears. It is stronger than Japanese White Oak, but lighter in weight. It has a distinctive yellow color that some people find attractive. I don't get the attraction, but must admit it has a striking appearance.
Gumi makes a fine, durable handle. It is a more expensive material. My handlemaker is no longer able to procure this wood so we don't offer Gumi handles.
Ebony and Rosewood
Ebony and Rosewood make elegant, durable, well-balanced handles for paring chisels, which are never struck with hammers and therefore unlikely to crack. But material costs are quite high. They are also custom order items that take some time to fabricate.
Oirenomi and atsunomi and other types of tatakinomi with ebony or rosewood handles look great. And in the case of amateurs that buy such chisels (from other sources) just to collect and/or admire, I have nothing to say. But we sell professional-grade tools to be used on real-world jobsites and in workshops by serious craftsmen for serious cutting, not to become safe queens. Using ebony or rosewood handled oirenomi or other varieties of tatakinomi to do real work is like wearing Jimmy Choo stilletto heels to a construction site.
Yes, Jimbo makes elegant shoes. And if your ensemble is well thought-out, a pair of his heels will make your legs look mahvelous dahling, simply mahvelous. Sadly, they will neither last long nor get the job done. Other workers will mock you behind your back. And embarrassing stuff will happen at the worst possible time.
For warranty reasons, we do not sell tatakinomi of any kind with handles of ebony or rosewood. They are too easily and irreparably cracked/damaged if struck with a steel hammer. Professionals will not purchase, and we will not sell, such silly tools.
Customs Duties
While it has not been a problem so far, importation of some exotic hardwoods such as Brazilian rosewood into the United States can be a problem, according to the guitar makers I know and information on the infallible internet (ツ). If you order handles made from these woods, please be aware that you become the responsible importer once such materials cross into the jurisdiction of your local Customs Office. They may confiscate your tools or levy fines. The risk is all yours. That said, it has not been a problem so far.
Not encouraging, I know, but customs services worldwide are in the business of making literally tons of money every hour by taxing the entire world using their absolute authority within their bailiwick, backed up by lots of scary guns. The most profitable income source for governments, as you know, is not taxes but making and circulating money (literally manufacturing money), followed by customs fees. Thus it has always been; Thus it will always be.
On the other hand, we have experienced difficulties with customs in only two countries, namely Spain, which is notorious for once charging confiscatory import duties on the gunpowder and cannonballs brought into Spain by Great Britain to free that country from Napolean's armies during the French occupation. Spanish customs is famous as a criminal racket.
Australia was brutally difficult on one occasion, but that incident may have been driven more by dazzling public employee incompetence rather than proper enforcement of the country's importation laws.
Conclusion
For standard oirenomi and other tatakinomi intended to be struck with a steel hammer, either White Oak or Red Oak are entirely adequate and cost-effective. White Oak is a little stronger, but its appearance does not improve with use or age. Red Oak is not quite as dense and strong, but it is sufficient for these chisels and looks better over time.
For wider Atsunomi and Mukomachinomi (mortise chisels) which will see heavy use, White Oak is the best choice due to its higher density and superior strength.
For usunomi and other paring chisels not intended to be struck with a steel hammer, Red Oak is the best choice, IMO, but White Oak will perform just as well. Gumi is not an option with C&S Tools. Rosewood looks beautiful and feels nice (if you don't have allergies to Rosewood), but are expensive and require lead time.
YMHOS
If you have questions or would like to learn more about our tools, please use the
If you have questions or would like to learn more about our tools, please click the "Pricelist" link here or at the top of the page and use the "Contact Us" form located immediately below.
Please share your insights and comments with everyone in the form located further below labeled "Leave a Reply." We aren't evil Google, fascist facebook, or thuggish Twitter and so won't sell, share, or profitably "misplace" your information. May my square become a triangle if I lie.