If the only tool you have is a hammer, it's hard to eat spaghetti

The David Allen
You may have noticed sawkerfs cut into the sides of the peeled cedar logs in the pictures in my earlier post about Sotomaru nomi and wondered "what the heck!?" I know that was my reaction the first time I saw similar slits many years ago.
"Sewari Kerf" sounds a bit like the phrase for hello in Thai, but trust me, I know the difference. "Sewari" 背割りtranslates from Japanese to "back split." Nothing to do with drafty pants.
You will also notice some narrow cracks in the peeled logs in the photo above. These are natural shrinkage cracks that always occur in timbers that contain the tree's heart. If sewari had not been cut into the peeled cedar logs in the photos above, the cracking would not be hairline, but would be as wide and wandering and ugly as a politician's morals.
A sewari kerf provides a predetermined location for shrinkage stresses to collect resulting in a more attractive and structurally sound post or beam. It also makes it possible to use these shiny peeled cedar posts and beams with less waste while achieving a more refined, orderly, reliable appearance.
Allow me to digress a bit while the ink dries.
The Japanese consumer places high value on uniformity of appearance even in natural materials. This is also why Japanese ladies will pay $120 for a perfect musk melon as a gift for someone knowing it won't taste any better than a less-beautiful but still expensive $20 melon. Both giver and receiver understand and appreciate the sentiment inherent in such a gift beyond the melon's taste.
The point: A natural product is made to look more uniformly natural by eliminating all natural defects. Makes perfect sense, right? Welcome to Japan.
Another aspect of this cultural peculiarity can be seen most in the traditional Japanese garden, if you have eyes to see it. Tremendous time and effort and money is spent constructing and maintaining a miniature representation of the natural universe in a small space. In this case, not uniformity but exaggerated naturalness is the goal. While the ostensible goal is the appearance of natural growth and random placement of features, there is not a single natural or random thing to be found in a Japanese garden, except perhaps the water in the pond. A beautiful art form to be sure. A triumph of design and patience. But about as natural as most movie actresses nowadays.
The sewari kerf too is not natural, but it helps nature appear both more natural and more uniform. It is also better for the environment. Did someone just say "Poppycock?" Ah. In that case, let us reason together, Gentle Reader.
The sewari makes it possible to cut square posts and beams from smaller diameter trees at less cost and with less waste. Indeed, without the sewari, many millions of small trees that would otherwise be clear-cut to make room for roads, infrastructure, and development, then chipped and tossed aside on the forest floors of Japan to return to the soil and atmosphere, can instead be used for construction lumber.
This wasteful activity is common throughout the entire world and has a tremendously harmful impact on the atmosphere, soil erosion, and water quality. Sewari is an environmentally-friendly way to make more efficient use of the world's most environmentally-friendly building material.
Please encourage wood producers and governments in your area to develop and employ better ways to use and maintain forests, because neither thoughtless harvesting focused solely on profits, nor abandoning forests to burn and rot and release particulate and chemical contaminants into the atmosphere and destroy animals and their habitats in the process, is responsible stewardship. We need the building materials, oxygen, and carbon dioxide entrapment capabilities of forests now more than ever. Bambi needs a home and dinner too.
I see the ink has dried so I will step down from my soapbox now (Oops, I almost tripped and broke my fool neck!).
Back to the subject of this post, please take a gander at the photos below of two square construction-grade Akita Cedar posts, both with hearts in their centers. The one on the left does not have a sewari cut, but it does have a nasty collection of shrinkage cracks. Ugly, oh sooo ugly. The one on the far right has a sewari cut, but only a couple of tiny shrinkage cracks. If you had a choice, which one would you buy? Which one do you think is more dimensionally stable? Which one is a more efficient use of natural resources?
Japanese building codes, especially those governing wooden construction, have changed a great deal since the Great Hanshin Earthquake of 1995 mandating metal connectors in tension loading, and metal plates spanning many connections in wooden structural frames. To accomodate the sewari kerf, manufacturers of these structural connectors have developed extra-wide plates that span the kerf, with screws and nail holes offset from the centerline. The point I am trying to make in my meandering way is that sewari is now an integral but hidden part of public and private life in Japan.
Perhaps the sewari kerf looks unsightly. In the case of posts, the carpenter will orient it away from view as far as is reasonable. In the case of beams, he will orient the kerf upwards out of sight.
Sometimes, after the wood has reached equilibrium moisture content and internal shrinkage stresses have calmed down, the carpenter will glue a strip of wood into the sewari kerf to fill it. Sometimes this strip makes the member look better, sometimes it makes it look worse, especially when it pops out and flops around. What do you think?
In conclusion, I would like to add a few points of clarification and a real-world example from my long-list of screw-ups.
Sewari doesn't usually add strength, but it makes it possible to use less than ideal timbers, and to process those timbers, including reducing the moisture content to allowable limits, in a shorter period of time and with much less waste than would otherwise be possible. This is a big deal if you care about conservation of natural resources. It's also a big deal if you are concerned about the cost of materials.
So long as the kerf can be oriented away from view, the appearance of timbers with sewari is a heck of a lot better than those without. And have you ever noticed how customers will look aghast at wandering, gradually widening shrinkage cracks in a large timber post or beam imagining that it will cause the member to eventually fail? Of course you have.
I did one job in Nevada, the driest State in the USA, using many large and long square timber posts that developed shrinkage cracks after they were installed. The cracks alarmed the Client so badly they insisted they would not occupy the building unless we installed metal straps at three heights around the posts to ensure they wouldn't explode, when in truth the timbers were not expanding but rather shrinking, and the cracks did not impact the posts's strength or resistance to buckling to any significant degree.
But if we had cut a sewari kerf into those posts immediately when they arrived at the hot dry desert jobsite, the amount of shrinkage would not have been less, but that shrinkage would have concentrated at the kerf and not caused the Client to make illogical, pointless and expensive demands. On the other hand, if cosmetics had been a priority, the Client would have been right to object to those ugly cracks, not that straps would have made any difference.
So I put it to you, Gentle Reader, did we save money on that job by not taking the time to cut sewari kerfs and consequently being forced to spend money and time fabricating and installing silly metal straps to resolve the Client's complaints later, invalid though they may have been? I think not.
Go forth and do better, my son!
YMHOS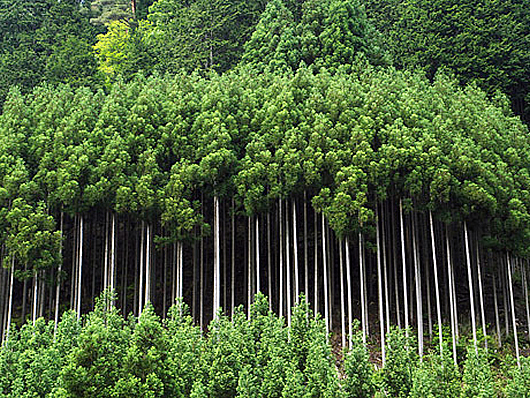 If you have questions or would like to learn more about our tools, please use the questions form located immediately below. Please share your insights and comments with everyone in the form located further below labeled "Leave a Reply." We aren't evil Google or incompetent facebook and so won't sell, share, or conveniently and profitably "misplace" your information.