Warning: This is a special Halloween post, but it may not be suitable for children.
In keeping with the Halloween season, I want to share this story about an unfortunate woman on the way back home.
The Japanese people have loved scary stories of all kinds for as far back as we know. Judging by the increasing popularity of horror movies in the USA, this is not a unique tendency.
True to form, this story includes themes common to many Japanese horror stories, such as lonely places and good food, helpless women and ropes, and a sad ending, indeed everything a scary Japanese folk tale needs.
As you read it, imagine you are a little boy or girl in a dark and drafty room in an old farmhouse tight against a bamboo forest. Big smoke-blackened wooden beams twist through the space overhead. It's dark outside and chilly; the wind is softly blowing outside making the bamboo and paper-covered shoji doors rattle, and the few remaining dry leaves rustle. Mother has just finished cleaning up after the simple evening meal. You're still a little hungry, but it was enough. A small fire is burning in the square sand-filled irori in the center of the room where Mother and Grandmother cooked dinner. The family is relaxing around the fire, and you are leaning against your mother or father as Grandmother tells this old story. I won't insist you enjoy it, but I hope you can grasp the atmosphere of rural Japan in past centuries.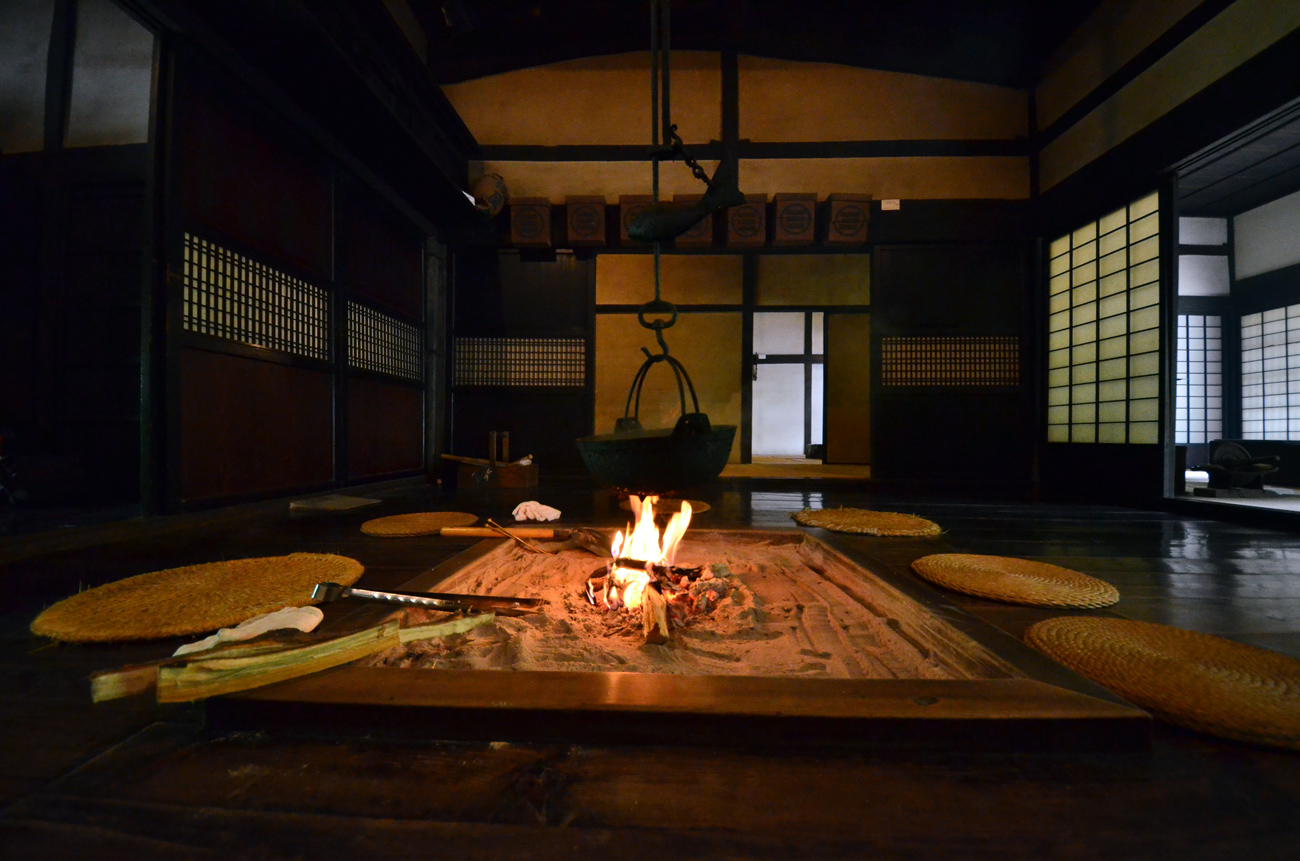 Long ago and far away there was a woman named Osei. She was 25 years old.
She had traveled from her home to visit her parents in a different village for several days. It was a half-day journey for a woman, normally one her husband or younger brother would have accompanied her on, but they were both too busy to travel with her this time.
Anyway, let's walk along with Osei on her lonely path through a dim bamboo thicket at twilight.
Suddenly a man appeared by the side of the path, as if he had been waiting for her. Osei screamed in surprise.
The man was huge and looked just like you would imagine a bandit would be with a long, unkempt beard and wearing a dirty sleeveless kimono. He grabbed Osei's slender arm violently and dragged her in among the thick bamboo stalks. Osei screamed like a banshee on fire but the thick silent forest swallowed the sound without an echo. Only a fox and the mice he was hunting nearby heard Osei's calls for help.
Osei struggled frantically to free herself from his iron grip, but without stopping the man just looked back at her admonishingly and said "Calm down, I'm not going to eat you! I just want you to be my wife."
The large, dirty man held tightly to one of Osei's arms, while Osei's feet and free hand scrambled in the fallen leaves on the forest floor trying to get back to the path. Hearing his words, she managed to gasp out "Wait, wait! I can't be your wife, I already have a husband and two small children waiting for me at home! Please let me go!"
Without releasing her the man stopped and with a puzzled expression said "Think about it. There is only endless drudgery waiting for you at your husband's leaky hovel. And the best you will have to eat is rough barley rice and pickled greens, right?" "But if you come with me your life will be easy. You can relax indoors all day and eat delicious foods. That's a lot better than your life now, I wager." He made other strange arguments about nice clothes and servants, but Osei didn't hear a single word, she just continued to scream and struggle.
Giving up on trying to convince Osei with words, the man tied her up, threw her over his shoulder, and strode purposefully away into the bamboo forest. After a while, the forest opened up to a clearing with a single house. The house was large and well made, like a Governor's mansion.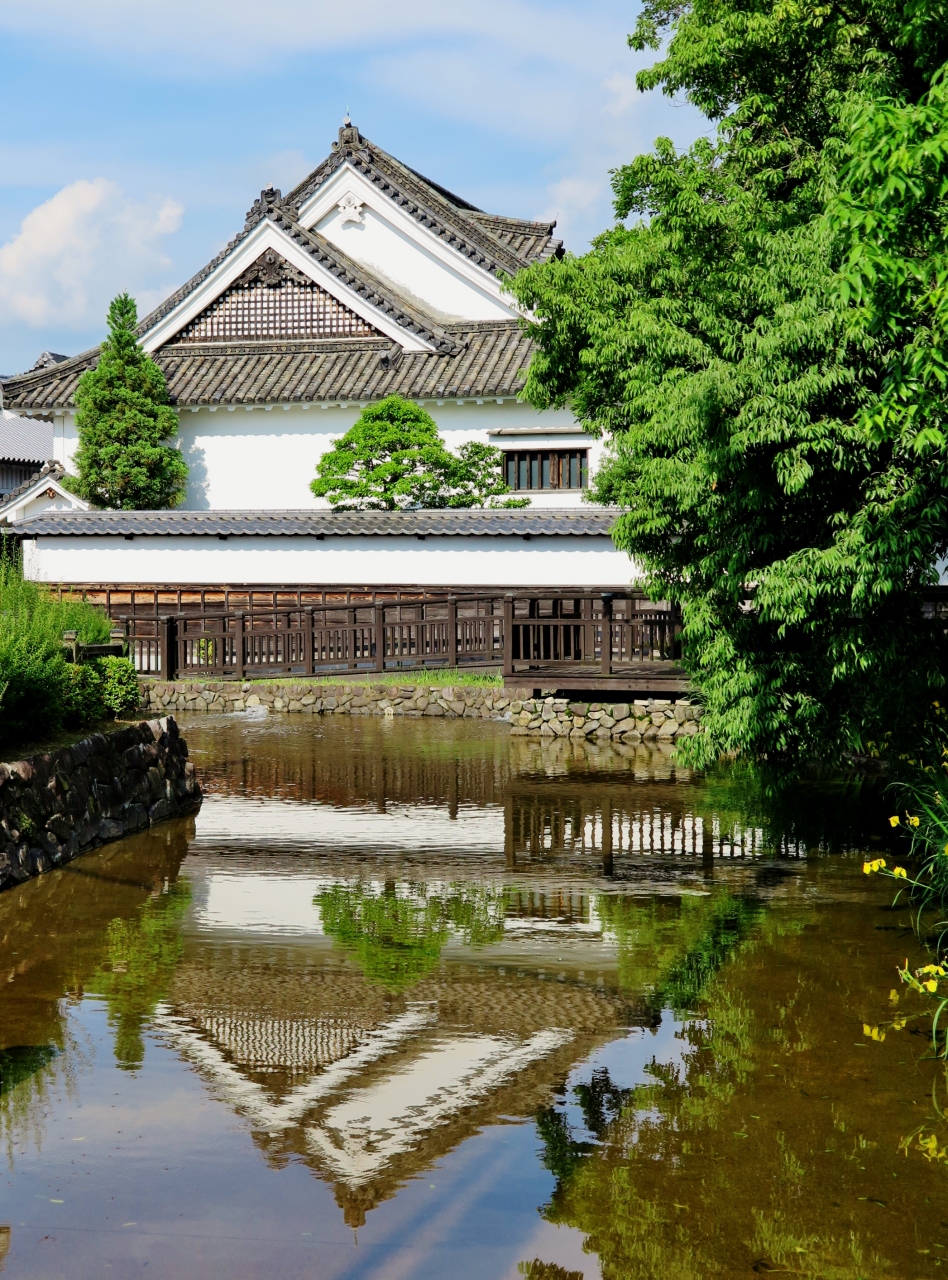 The man carried her into the house and lowered her onto the floor. Looking steadily into her eyes he firmly said "You are now the woman of this house. Your life here will be easy, so long as you don't go outside. You will have delicious things to eat and a new silk kimono to wear everyday. Then you will understand that what I have said is true. Even if you think I am lying, stay here for just one month anyway, and after that you will be free to go. So stop all this hysterical wailing."
Osei continued to cry, but after a while dinner appeared. It was everything the scruffy bandit said it would be.
Osei grew up on a farm and was a poor farmer's wife so she had never even seen such luxurious food before. But thoughts of her husband and children made it impossible to eat a morsel, so she just sat in a corner of the room and cried in despair.
But humans are calculating creatures unable to live on affection alone. After three days she became so hungry she finally relented and ate a mouthful of food.
There were foods from both the sea and the mountains, wonderful dishes she had never seen before much less tasted. She didn't forget her husband or children for even a second, but rationalized that the separation would only be for a month. As the days passed she began to eat regularly a little at a time.
Osei spent each day alone in her room simply eating and reading picture books the man brought to her, so she was not especially bored.
Most importantly, the man did not pressure her for physical relations, so the tension between them gradually relaxed.
Eventually, however, Osei had read every picture book several times and was left with nothing to do. She was bored.
One day as the smelly bandit was taking his usual afternoon nap she snuck out of the house as quiet as a mouse wearing fuzzy pink slippers. She slipped from the veranda into a large garden with a big white kura warehouse off to the side. She heard voices from inside the warehouse, and what sounded like rain dripping from a leaky roof. Osei was curious and peeked into the warehouse's open doors. What she saw inside shocked her so badly she had to kneel to keep from falling over.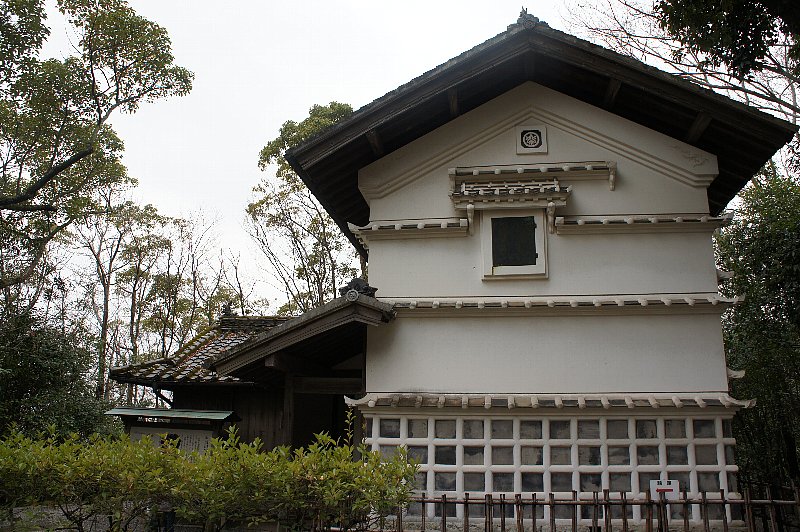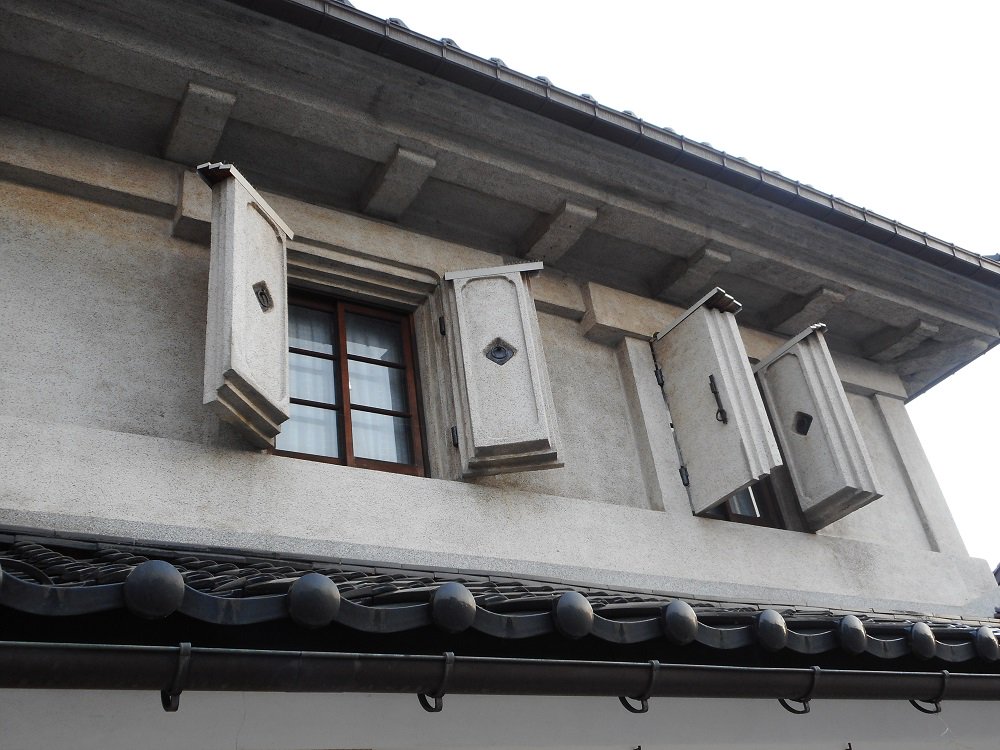 What Osei saw in the kura was dozens of bound women hanging upside down from the ceiling beams by ropes around their ankles as naked as the day they were born. Every single one of them was plump and sweating a yellowish liquid from their hair follicles and face which fell into a clay pot placed on the floor below each woman making a "drip, drip, drip" sound.
Osei was deeply ashamed at her indolence while these women had been suffering so close by. She began to cry at the sight. One of the women noticed Osei and whispered "Run! Hurry run away! If you don't escape you too will end up hanging here with us while he steals your body's oil!" With that all the hanging women looked at Osei pitifully and said as one "Run and bring us help!"
Osei was so shocked at first she couldn't respond to the women's pleas, but after a few minutes she did manage to stand and run away like a scared rabbit as fast as she could. As she fled through the forest and thickets daylight failed and she became even more fearful, but she continued running until at last she saw a light in the distance. It was an old farmhouse. She ran to the door and banged on it loudly until an old snaggle-toothed white-haired woman slid open the door.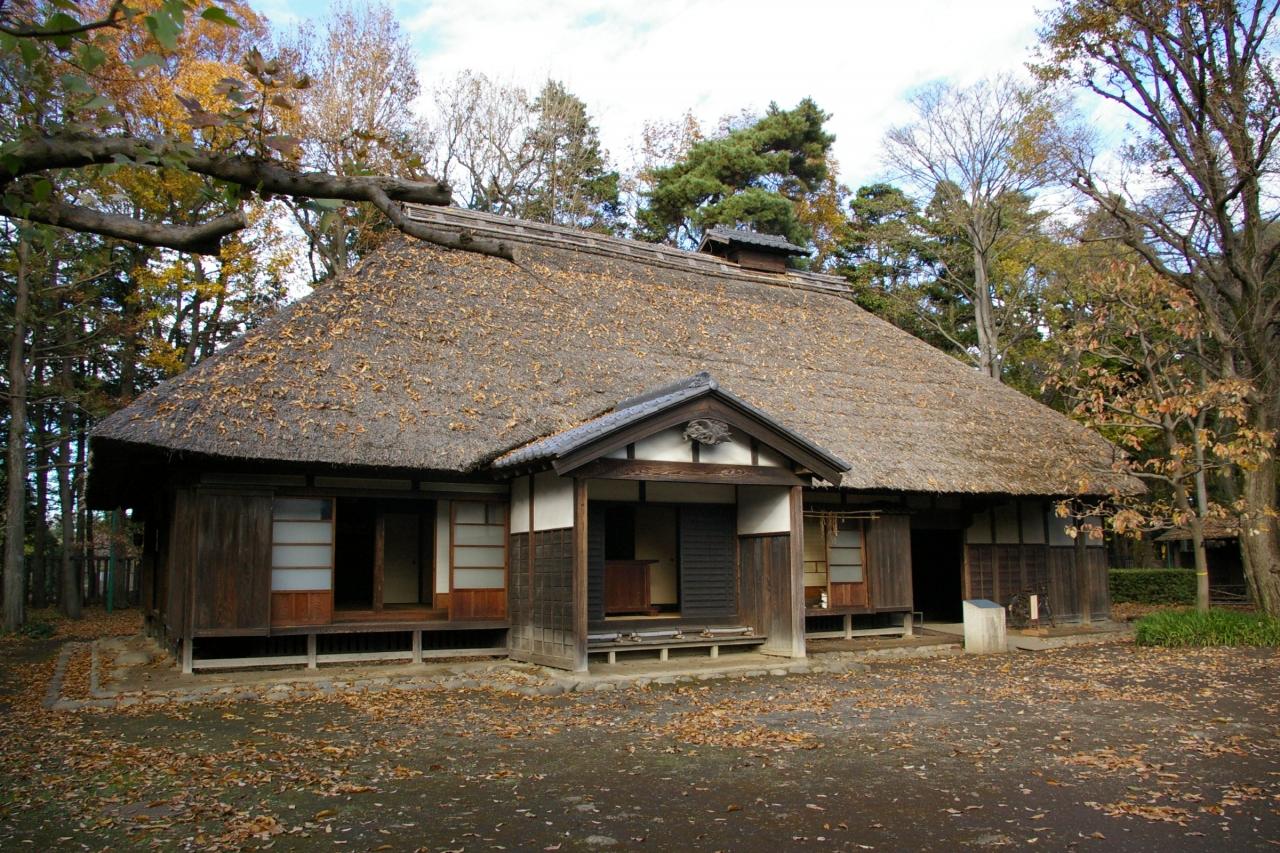 "What's the matter; why are you so panicked?" the old woman asked Osei. Reassured by the old woman's concern Osei quickly explained what had happened.
"Well, come inside dear. I had no idea such a scary ruffian was skulking around these mountains," said the old woman. "Oh no, I hear someone coming!" she suddenly barked, and pulled Osei inside sliding the door closed with a loud "clack!" Osei peeked through a crack at the doorframe and indeed saw a large figure running through the dark bamboo forest towards the house. "That's him! That's the man! He's coming!" she gibbered in a low panicked voice.
The old woman guided Osei to a ladder going up to the house's attic. "Quickly now, climb this ladder and hide above. There is a pile of hemp bags in the corner. Climb inside one of them and stay very very quiet until I get rid of that animal. I will hide the ladder so he won't find you."
Osei climbed the ladder, found the pile of bags, and curled up inside one as small and quietly as a potato bug. She could hear someone banging on the door below, and the old woman saying "I'm coming, I'm coming! Wait a second!" As the door slid open she heard the large man's voice saying "A woman just came here, didn't she!"
The old woman responded "No one but you has come here today." The man's voice said "Don't lie, I saw her!"
"How could you see anything in this darkness?" said the old woman.
"You have an oil lamp burning inside. I saw her shadow at this very door when you opened it just now!"
"You must have seen my shadow twice," the old woman argued.
The man was angry now and spit out "I'm no fool! No way I would mistake an old hag like you for a young woman even in the dark." "You're trying to steal the woman I was preparing!"
The old woman lowered her voice, but Osei could still hear her response "Haven't you got enough women already? Couldn't you share just one with your old mother?"
The man continued to argue with the old woman, but eventually he calmed down and spit out " Just this once, then, mother." "Where have you hidden her?"
"In the attic," responded the snaggle-toothed old woman pointing upwards with a finger and grinning. "Inside one of the bags. And while your at it, would you be a good boy and hang a new rope for me?"
"You know, you're a lot of trouble for such an ugly old hag!" responded the man's voice.
Hearing this Osei tried to escape from the bag, but before she could get away the bag was lifted into the air. The bag was suddenly and powerfully torn open and she was pulled out, only to be tied with a thick, rough rope around her ankles and suspended through a hole cut in the ceiling above the hallway below. Clearly, the rope and hole had been prepared well in advance and used before.
Osei looked around and saw the ruffian and his mother looking back at her. Of course, they appeared to be upside down. Looking at the floor below, Osei noticed a large clay pot placed directly below her with what appeared to be some yellow oil in the bottom.
Before long, a slow drip, drip, drip, … of oily sweat fell from Osei into the pot.
A sad ending to an all too common story of suffering.
The End
(A folktale from the island of Kikaijima, located between Kyushu and Okinawa)
YMHOS
If you have questions or would like to learn mor
If you have questions or would like to learn more about our tools, please click the "Pricelist" link here or at the top of the page and use the "Contact Us" form located immediately below.
Please share your insights and comments with everyone in the form located further below labeled "Leave a Reply." We aren't evil Google, fascist facebook, or thuggish Twitter and so won't sell, share, or profitably "misplace" your information. If I lie may I be hung by the toes for a week.